How To Throw An Amazing Baby Shower On A Small Budget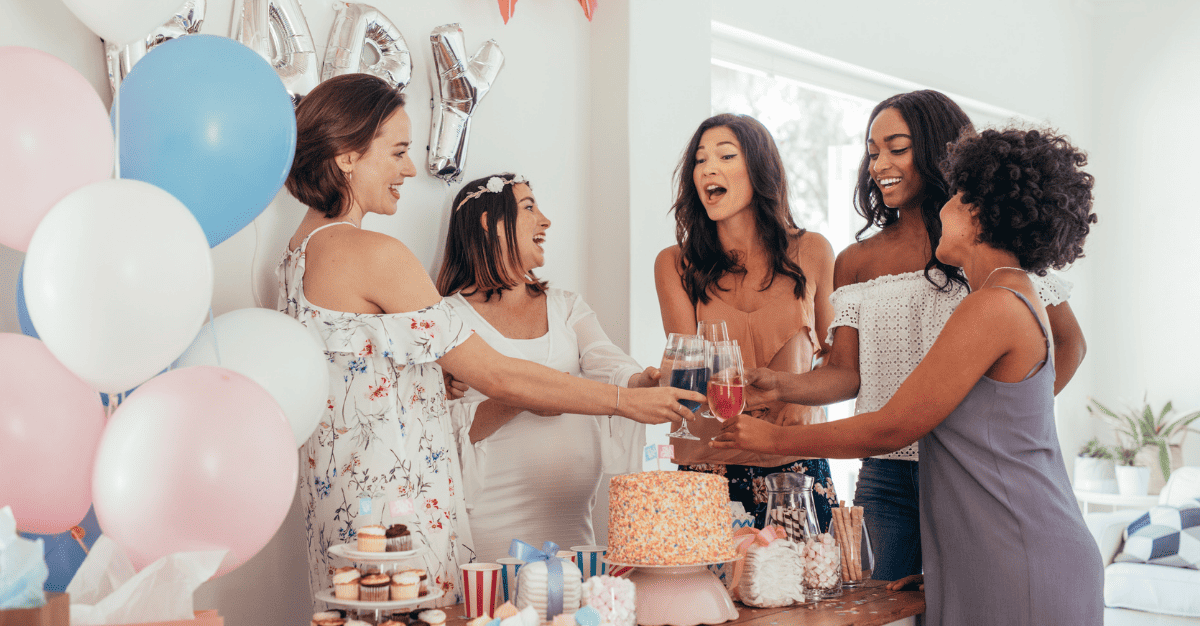 Hosting a baby shower, whether you're the mom to be or someone close to who is hosting it for her, is a rite of passage for soon to be moms. It can be a really special day to celebrate and help mom prepare for her new arrival. However, when every penny counts, planning a budget baby shower can seem quite daunting. But it doesn't have to be. You can plan a really lovely, inexpensive baby shower on a small budget with a few hints and tips listed in this article. 
How To Host A Cheap Baby Shower On A Budget
How To Save Money on Invitations: 
When planning a budget baby shower, one of the first considerations is who to invite. Plan your guest list and then get sending those invitations. A great, money saving alternative to physical invitations sent in the post, is to use e-invites. 
E-invites are extremely easy to use and send to those you'd like to invite to the shower you are planning. They avoid the cost of buying physical invites, but also the even bigger cost of sending them in the post (which can add up to a significant amount).
It's also a lot less fuss than physical invites you have to handwrite, and go out and post as well as making it convenient for people to rsvp. 
You can send a simple invite through your personal email or via an invitation software (though even this isn't necessary). 
If you really want to send physical invites, a fun and cost effective method is to make your own. Save money and get crafty at the same time to save money on baby shower invitations. 
How To Save Money On Baby Shower Venues
Where you choose to host your budget baby shower depends on the number of people, you have on your guest list. As well as your own financial situation.
Host It At Home
If you can manage it, the most inexpensive option is to host the gathering at your home and invite everyone from your guest list there. We can do this if you are only inviting a few select people or you have a large home. You can always host it in your garden if you have one and it is in the summer where you can guarantee pleasant weather. 
Alternative Venues
If you cannot host it at your home, there are other budget friendly options available. 
Have a baby shower picnic at your local country park. This can be perfect if you can guarantee the weather. You won't be worried about space, so you can host as many or as little guests as you like. Also, being the outdoors and in nature can give your baby shower a really relaxed and lovely feel perfect for this kind of gathering.* 
*One word of caution, however, is that the setup here could take a lot. For example, you will have to carry food and equipment across the park to where you want to set up, which could be a huge hassle, but you could find ways of pairing down. 
2. Research local restaurants and cafes who will hire out their function room in exchange for ordering food for large parties (if this type of food is in your budget). 
3. Thoroughly research all venues and function rooms. With enough research, you are likely to find a room that is budget friendly and will meet your needs. Try your local community center as a venue.
The last two options would be best if you can't guarantee wonderful weather or you want the ease and stability of an indoor baby shower. The type of venue you want will depend on preference and budget.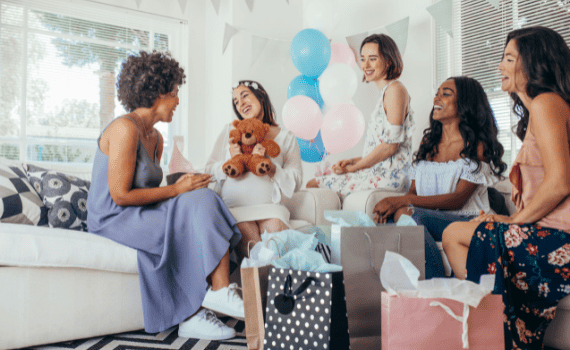 How To Save Money On Baby Shower Decorations
You can go all out on this one, or really tone it down, but you can do either in a budget friendly way. 
Go Minimal
If you don't feel that decorations are a huge deal for planning an inexpensive baby shower, you can save money by only buying a few necessary decorations that will set the tone. Keep decorations simple by investing in balloons and maybe a banner, but you needn't invest much more. 
If, on the other hand, decorations feel a huge necessary part of your plan, then there are ways of doing going all out on a pretty small budget.
First, think about your shower theme and color scheme. Some great ideas are a Winter Baby Shower or Fall baby shower.
Get Crafty
One way is to make your own. This might appeal if you've already gotten crafty by making your own invitations. Making your own decorations can be all part of the fun of planning a shower and it can be really nice to see your own creativity on show to celebrate the arrival of the new baby, whether it's for your own baby or someone special.
You could also try creating diaper cakes. These are usually made with rolled diapers, but you could also use nappies/diapers (flattened out) if you can't get them rolled. There are lots of ideas and instructions for making diaper cakes online.
Acquire Second Hand Decorations
If making your own doesn't appeal to you, don't fear you can get your hands on some excellent second hand decorations at minimal prices or potentially even free. 
Lots of people either hate to see the decorations they have bought go to waste, or want to make some cash back on the decorations they have bought.

eBay has some great second hand baby shower decoration bundles that will have only been used once, at a fraction of the price that it would have been if bought new. 
Facebook is another great resource to find secondhand items. Post in local Facebook groups, including parenting ones requesting second hand baby shower decorations. You'll be surprised how often you can find what you need, such as a balloon arch and paper lanterns this way. It's also a great way to recycle and give those items a new home, rather than them ending up in landfill.
If you're looking for something more specific, such as a speciality item like a cake topper or banner, then Etsy is definitely worth checking out. You can find some really lovely handmade items here, support small businesses, and often find exactly what you're looking for.
Finally, don't forget the dollar store! They always have a great selection of affordable party supplies which can be used to decorate for a party.
How To Provide Baby Shower Food On A Budget
You don't have to go all out and get everyone a three course meal for the gathering you are planning. There are a variety of ways you can do delicious food for your baby shower to keep it simple and budget friendly. 
Related: 10 Fall Baby Shower Food Ideas
Buffet Food / Finger Foods
Buffets are really popular as they provide a variety if food that will have something everyone can enjoy. Buffet food can be as simple as a few sandwiches, fruit salad, snacks such as crisps and sausage rolls and maybe a pasta salad. You could set up a cute little dessert bar with a few sweet things for dessert. 
These kinds of foods are easy to buy and prepare and don't cost a lot either. Costco's catering menu is extensive and can feed a party for as little as $2.50 per guest. Costco provides a bunch of options ranging from shrimp cocktails to croissant sandwich platters. 
Related: 10 Fall Baby Shower Cakes
Cookie Bar
You could have a cookie bar with homemade cookies. This is a great option if you're on a budget and can be easily done with a few ingredients. You could even ask friends or family to help out by bringing a batch of cookies each.
Ask The Guests
A fun idea is that you can ask guests to bring a baby shower inspired dish. This can be a fun thing for guests to bring and they can explain why they made/ brought their dish and how it relates to the baby shower. It's also an excellent way to bring down the cost of the food by sharing it out and reducing the amount of things to do for the baby shower as well.

Guest are often more than happy to contribute to things like this and it all becomes a team effort and an added discussion/ activity point. 
Afternoon Tea
Choosing something simple, like an afternoon tea for your party, is an excellent option if you are trying to keep costs down on things like food. 
An afternoon tea feels quite fancy and has the perfect feel for an event like a baby shower, whilst also being really simple and cost effective to set up.

To set up an afternoon tea, all you really need is scones, cream, and jam, along with tea and coffee that your guest can have as much of as they like. Both enjoyable and super straight forward. 
If you want to add a little more, a few finger sandwiches and biscuits would be just fine, with only adding a small expense on top. 
Baby Shower Games And Activities On A Budget
This is probably the easiest thing to do with a small budget for your baby shower. Most of the activities and games for a baby shower pretty much cost nothing, or at least very little. Here are some party game ideas for you to take a look at.
Printable Baby Shower Ideas
There are many printable baby shower games and activities online.You can find free ones with a quick Goggle or buy some budget friendly ones on Etsy. Some ideas of baby shower printables you can find are baby bingo, baby shower charades, baby word scramble.
Quizzes
Quizzes are a really great game to play. They get everyone involved, are really fun and are totally free to do.
You can make the quizes up yourself, or a simple google search will bring you lots of options up for you to use. You might find some paid printable quizzes that are fantastic too, and even though they are paid, they are generally very inexpensive, but great fun. 
Guess The Baby
This is another totally free activity to do at the party. Ask guests to bring in a baby photos of themselves and everyone has to guess who matches the baby photo. No expense, little planning, and lots of fun. 
Ask Guests To Bring An Activity
Guests often love the idea of being part of the planning, as it makes everyone feel more part of the event and doing something extra for the mom to be. You could ask guests to bring a baby shower activity to the party. 
This both involves guests more, reduces some of the activity planning and reduces the budget spent on this part of the baby shower. It's also great if you are struggling to come up with baby shower activity ideas.
Inexpensive Baby Party Favour Ideas
Baby Party Favours
It's always nice to end an event with a party favour, but like everything we've discussed in this article, you don't need to go overboard, and inexpensive party favours can be just as nice as the more expensive ones. Something you can make is perfect, as this is usually the least expensive. 
DIY Party Favours
Something you can bake yourself and give to the guest at the end of the party as a favour normally goes down a treat. A cookie with thank you iced on or a small decorated cupcake is often really appreciated. 
Crafty Favours
A lovely idea to save money is to combine a baby shower activity and your party favour. For example, the party's favour could be something you all craft together and then take home with you. A great example for this is something like home made soap or candle making.  
Conclusion – Perfect Baby Shower On A Small Budget
If you are planning a baby shower that you want to keep within a small budget, then following a few or many of these guidelines will help you keep the pennies under control. 
Just because you haven't spent a fortune on the baby shower doesn't mean it has to be less enjoyable or meaningful. Your baby shower will be what you make of it rather than what you spend on it.
 

Cheap Baby Shower FAQ's
Where Can I Buy Party Food?
BJs, Sam's Club and Costco all have great deals on party food that are significantly less expensive than the ones in regular grocery stores.
What's The Best Budget Baby Shower Ideas?
Another budget baby shower idea is to skip the expensive venues that limit the number of guests you can invite, and instead, opt to host the party at your home.
What Are The Best Baby Shower Venues?
If the mom-to-be doesn't have a ton of names on her invite list, choosing a smaller venue is definitely easier from the get-go.
Where Should I Host a Baby Shower?
If you can host the baby shower in your home or at a friend's house!
What's The Best Time To Host a Baby Shower?
Ideally, if you're trying to cut back on main course dishes, host your baby shower after lunch.
What Are The Best Baby Shower DIY Ideas?
From baby bottles centerpieces made from folded blankets to pacifier-looking cake pops, there are plenty of DIY ideas around.