Your Ultimate C-Section Recovery Essentials List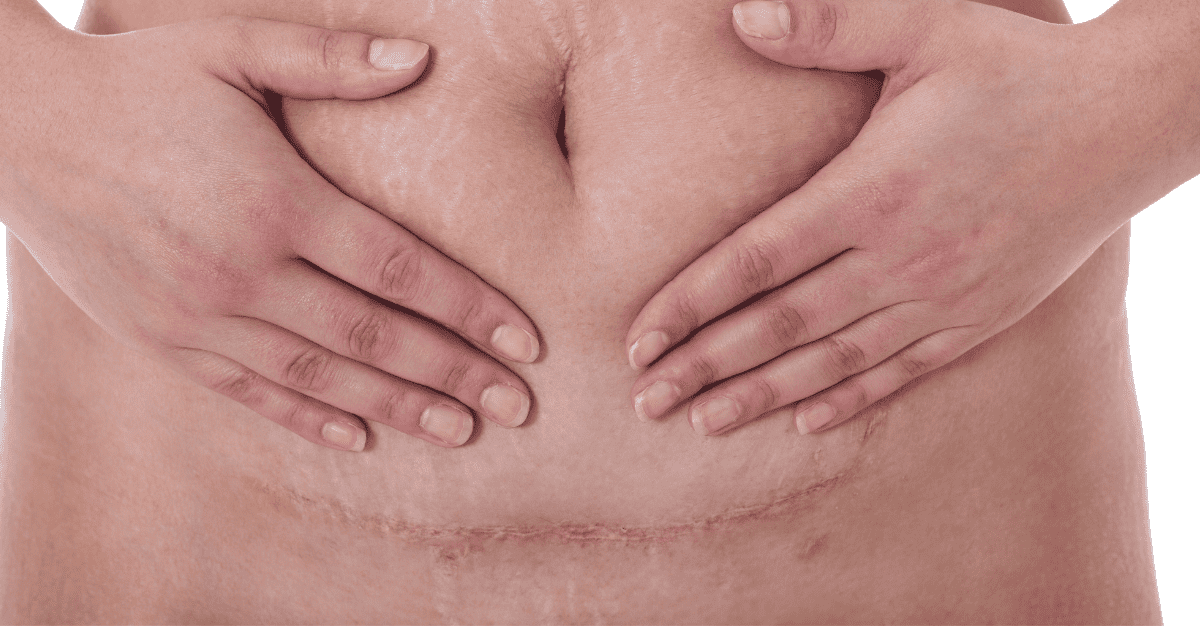 Are you pregnant and opting for a planned c-section? Or perhaps you have already given birth to your bundle of joy via C-section, (planned or emergency) either way, you will want to look at our list of C-section recovery essentials.
Nowadays, caesarean section is becoming more commonplace. Sometimes it is by choice and sometimes it is done out of necessity for the safety of both mother and child during childbirth. 
It is very common knowledge that having a C-section can really take its toll on your body and having the tools at the ready to help you recover faster and easier is important. 
That is why we did the research and have come up with the ultimate C-section recovery essentials list to help your body bounce back and allow you to get on with life and enjoy your new baby. 
C-Section Recovery Must Have Items
Helping Your Body Recover
When you have a C-section birth, they considered it a major surgery and therefore recovery can sometimes be long and tough, but you can get through it by using some tried and tested products. (and some good old-fashioned rest and recuperation).
Below, we look at a few of these c-section recovery essentials and how they can make postpartum life a lot easier to cope with and hopefully shorten the recovery period at the same time. 
If you are having a planned caesarean section, you can pack some of the items on the list in your hospital bag as you will need them right after the birth.
Belly Binder
Many women who have c-sections are told that having a belly binder on postpartum is essential to recovery. The reason for this is that during a c-section, you will have your abdominal muscles cut to some degree and they can also become stretched and weak.
A belly binder (often provided within the hospital) will help with the compression of your abdomen and incision, and this will help with internal healing.
It will also make you feel more comfortable and pain can be significantly reduced.
A belly binder is definitely one of those items that is right up there on the c-section recovery essentials list.
Pain Medication
As mentioned, a c-section is a major abdominal surgery and therefore you are bound to experience pain to some degree (depending on your pain threshold, it may be more bearable for some than others).
So it would stand to reason that having sufficient and effective pain relief is a major essential when it comes to c-section recovery.
You will be given this when you are dismissed from the hospital, and while in the maternity ward, they will also provide you with pain medication as needed.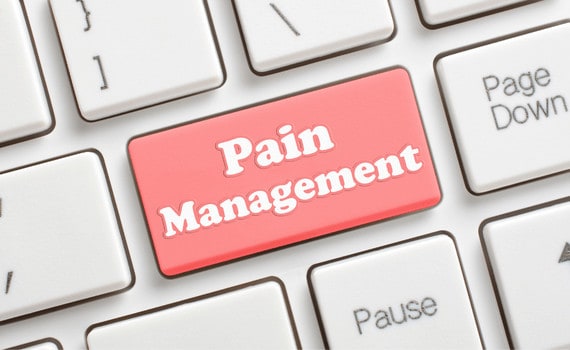 Stool Softeners
When you have a c-section, it can have a significant effect on your bowel movements, especially since having an epidural numbs that whole nether region and your body now needs to function internally once more.
For this reason, many physicians will recommend or prescribe something to help soften stools and to coax natural bowel movements as soon as possible post c-section.
Drink lots of water as this will help you go to the toilet easier.
Postpartum Pads
Whether you have a c-section or vaginal birth, you will experience a significant amount of bleeding for an extended amount of time. You will want to invest in postpartum sanitary pads to use within the hospital and at home for up to two weeks. Make sure to opt for pads that contain more natural fibers and have no chemicals or fragrance. 
Disposable Underwear
Along with your postpartum pads, you will want to grab yourself some disposable or mesh underwear.
They almost have the texture of tissue paper but are quite effective and work well with the pads. They are also more recommended for the fact that they will not irritate your c-section incision.
Wound Cleaning
When you have a c-section, you will have an incision in your abdomen that will have stitches and just like with any wound on the skin, you will need to keep the area clean and free of germs and moisture.
Using some kind of antiseptic liquid or ointment on a cotton wool ball will ensure you avoid getting an infection in the incision.
If you suspect that you have got an infection (signs of infection: foul odour or excessive itching or oozing) you will need to contact your physician immediately.
Taking care of the wound will also mean it heals faster, and the scar left behind will be significantly reduced.
High Waisted Underwear
I also recommended this type of underwear because it sits above your incision and will not ride down and start to irritate that specific area.
They are also far more comfortable during this time. (Granny panties for the win).
Loose Fitting Clothing
Again, this is purely for comfort and to ensure you have freedom of movement and there is no friction over the actual incision. Having loose fitting tops or button downs are also best for breastfeeding mothers. 
Nursing Pillow
If you have opted for breastfeeding, you will find that you are feeding your baby often during the day and night, and when you have had a major surgery like a c-section, you will want to try to make your life as comfortable and stress free as possible.
That is why a nursing pillow is so popular with new mums. It is easy to position yourself in a way that is not only comfortable for you but also for your newborn baby.
They can be placed comfortably on the pillow whether lying on the bed or if you are holding them and feed till they are content. So keep your pillow handy!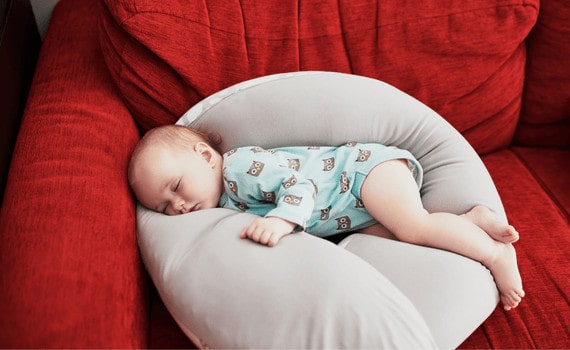 Co-Sleeper
Having a co-sleeper attached to the side of your bed is so versatile and convenient.
Not only is it good for your newborn to be close to you at night and for your own peace of mind, but when you are recovering you want to try to reduce the amount of times, you need to be climbing out of bed to go fetch your baby to feed.
This way, your little one is just an arm's length away and you can both rest easy.
Diaper Caddy
These are really handy little devices, especially if you have a double level home.
They are great to fill up with diapers, bum cream and even a change of clothes and burp clothes and you can carry them with you wherever you go within your home.
This way, if you are downstairs and the baby needs a nappy change, you do not have to do a million trips up and down.
You can even take them out with you once you reach that point in your journey called motherhood. 
Comfy Sitting Place
Having a comfy seat in the area you wish to spend most of your day (if you are not sleeping, of course) is important.
Something that is easy to get in and out of but that is supportive and comfortable for you to nurse or bottle feed your baby is perfect.
Have it in a good space where you and your baby can feel relaxed and at peace while you continue on with your c-section recovery.
Reading Material
Now this part can be reading material for either during your recovery at home or what is recommended is getting some reading material about c-sections and what to expect before you even head into the hospital.
Knowing what you are up against can be strangely soothing in a way because you can then be more prepared for the before and after scenarios. 
Postpartum Doula
It is quite common to opt for a postpartum doula. Many mothers are choosing these services not just to aid in the c-section recovery process but overall support during this time of transition (which I would call more than just a change in your body).
Having that kind of help and someone who understands what you are going through can be invaluable.
The postpartum doula is a great person to have on hand for those first few days when you return home from the hospital, especially if you will be recovering from c-section then getting ready to head back into work within 2 weeks or so.
Having help in caring for your other children and even household tasks can really make a difference at this point in your life.
Exercises For Core Muscles
The core muscles are a set of muscles that include the front abdominal wall.
They play an important role in good posture, bracing your trunk during movement, and for giving you more efficient motion when you are carrying out upper-extremity activities.
By really focusing on strengthening these core muscles, you will notice how much easier it is to do everyday activities, such as lifting your baby or even just getting out of bed.
So it is an important factor to consider when you plan ongoing back to work so that you create the most efficient way to do life with a c-section recovery in place.
Prenatal Vitamin Supplements
Taking prenatal vitamins is essential during your pregnancy and recovery, especially if you are doing so after a c-section.
Prenatal vitamins will help to ensure that your body has all the nutrients it needs to heal and recover properly without any hindrances or complications arising.
It is also great for building up iron levels in your blood which can be lower than normal after a c-section.
Mental Support
It is important to remember to look after your mental well-being during the recovery process. It is not only physically taxing but also emotionally draining and this should not be overlooked.
Find someone you can talk to if needed, or even just writing out your thoughts in a journal can be a great way to reflect on what is going on in your life right now, the changes that are happening and how you are feeling.
Having someone you can talk to who understands what you're going through can make all the difference, so don't feel like you have to tackle this alone! Allow yourself space to process the changes and be kind to yourself during this transition.
Conclusion 
Remember, whether you have decided beforehand to have a c-section or for a reason out of your control you end up having a c-section instead of a vaginal delivery, you, your postpartum recovery and the health of your baby is of the utmost importance.
It is also key to ensure that when you leave the hospital that you do not feel the need to start cooking, cleaning and carrying on like you did before you had your baby.
Do not be afraid to enlist help. After all, it takes a village to raise kids, right? If at any point you don't feel like yourself speak to your GP or Heath Visitor as you may suffer from postpartum depression.
Besides of all these c-section recovery essentials, some of the most basic things like someone to prepare meals for you and your family postpartum, maybe a house cleaning team, and various other small gestures can take a huge load off of you and your immediate family while you try to get your body to recover and enjoy the blessing of your new baby.